Scorching hot weather conditions currently prevailing across Ho Chi Minh City and most southeast provinces over the last few days has sent a number of elderly and child patients to hospitals, with complaints like diarrhea and heat stroke.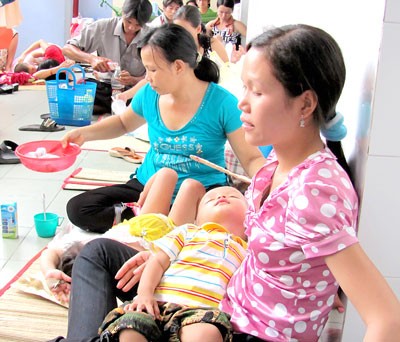 Children and relatives in CHildren Hospital No.1 (Photo: SGGP)
Most child patients suffered from diarrhea, hand-foot-mouth and respiratory problems while most elderly patients suffered from blood pressure and heatstroke.
Doctors at Nguyen Tri Phuong Hospital said they treated many of the elderly people with symptoms of exhaustion, loss of appetite and chronic ailments like high blood pressure and heart disease.
Hospitals like Nguyen Trai, Nguyen Tri Phuong and Medical University in Ho Chi Minh City received the most number of patients.
For instance, Nguyen Trai Hospital said the number of elderly patients who came to the hospital in the past few weeks had increased to 300, mainly for chronic conditions like respiratory, cardiovascular and digestive diseases. Meanwhile, Hospital 115 said the number of old patients with hypertension had also increased, with as many as 140 inpatients a day.
Children Hospital No.1 in HCMC said 4,500 children are coming in every day in the last two weeks, with most suffering from breathing and digestive problems. Children Hospital No.2 said the numbers soared to more than 5,000 cases, and around 14,000 experienced breathing problems.
According to medical staff, people usually drink more water during the hot weather hence the possibility of drinking poor quality water increases. Food is more difficult to preserve in hot weather and bacteria sets in fast on food lying in open conditions. This kind of food decays faster leading to ailments like diarrhea in children.
Hand-foot-mouth is also on the rise. The Tropical Disease Hospital recorded around 1,343 cases of hand-foot-mouth since the beginning of the year in Ho Chi Minh City.