Doctors at the National Hospital of Pediatrics are preparing risky separation surgery on conjoined twins with congenital problems, born in Vietnam on December 2.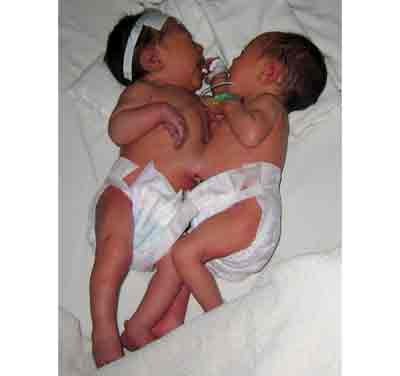 The conjoined twin, Nguyen Van Cu and Nguyen Van Co (Photo :SGGP)
The conjoined twins, Nguyen Van Cu and Nguyen Van Co, were born in hospital in Quynh Luu District in the central province of Nghe An weighing 4.5 kilograms.

They are joined at the stomach. However, each twin has a congenital malformation. One has a digestive problem, the other suffers a heart problem.
Although X-rays reveal the twins each have a full set of organs, hospital Director Nguyen Thanh Liem expressed concern about the separation surgery, scheduled for December 22.
Dr. Liem said the surgery would be difficult because the babies' malformations were rare and complicated.
 
The operation is estimated to cost around VND100 million (US$ 6,000). The hospital will cover the fee because the twins' parents, Nguyen Van Loi and Dam Thi Chuyen, are poor farmers.