The Department of Animal Health has established six teams to give this year's second round of bird flu vaccinations to Viet Nam's domestic poultry.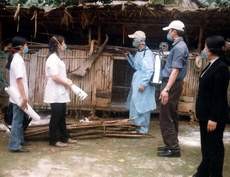 The newly-established teams will check vaccine storing condition and the quality of the remaining vaccine
From now until September 11, the teams will also check the conditions for storing the vaccine around the country as well as the quality of the vaccine remaining from the first round.
Any substandard vaccine will be destroyed.

Recently the Ho Chi Minh City Center of Animal Health detected the H5N1 bird flu virus in a flock of unvaccinated ducks in Thanh Phu district down south in Ben Tre.
The local authorities destroyed the whole flock.

An official from the Department of Animal Health says the risk of a fresh bird flu outbreak is very high, especially in provinces with a large number of water birds.