Following updates of complicated development of Zika virus disease yesterday, Ho Chi Minh City Party Secretary Dinh La Thang said the city is attempting to become a smart city and it should have no disease.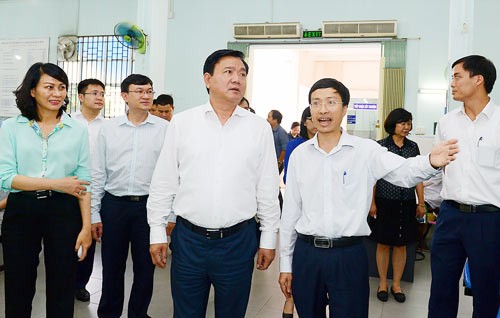 Party secretary Thang  ( L , 2nd, front line) tours Pasteur Institute ot check the activities (Photo: SGGP)
He was quoted as saying at a meeting with leaders from the Ministry of Health, Pasteur Institute and relevant agencies on epidemic preventive measures yesterday.
Head of Pasteur Institute Professor Phan Trong Lan said that one more case of Zika virus infection was detected in HCMC's District 5, bringing the total cases in the city to five. Prof. Lan said that the institute has updated the development of the disease in the globe as well as conduct tests on over 800 samples sent from health facilities in the city and other provinces.
Speaking about monitoring and epidemiology survey, the professor said that his institute has provided training to medical facilities and preventive medicine centers in districts, complaining that test equipment is out-of-date; hence, the institute needs more investment.
Speaking at the meeting, Director of the municipal Department of Health Nguyen Tan Binh said that in addition to setting up inspection teams, the health sector divided the city into different areas such as vulnerable areas. Major districts with high risk include Binh Chanh, Thu Duc, Hoc Mon; less dangerous districts include district 8, Tan Phu, and Tan Binh.
Being a health manger, deputy health minister Nguyen Thanh Long said that the ministry has predicted the development of the virus adding that more cases of Zika virus infection will be recorded and inborn defects among babies is unavoidable. He fretted that the virus causing microcephaly in the highlands province of Dak Lak is also the same strain circulating in HCMC; accordingly it is highly to have same defects in babies in HCMC if the health sector did not work well.
Professor Long urged local administrations and health facilities to implement anti-mosquito campaign to kill the insect and its larva as well as more investment should be poured into preventive medicine centers to raise its capability. HCMC is very vulnerable to diseases in the world and always the first place in the country to have new disease; Mr. Long said. Currently the cases of Zika virus disease account for 15 percent of the country's total cases.
On the same day, deputy chairwoman of the municipal People's Committee Nguyen Thi Thu presided a meeting with related agencies and major health facilities on implementation of preventive measures. The Department of Health said that 30 major hospitals in the city have screened suspected cases in 30 big hospitals. In addition, to prevent microcephaly, the health sector concentrated to detect pregnant women with Zika virus symptoms and keep an eye on newly-bon babies.
Deputy Chairwoman Thu asked district administrations to increase cleaning the environment and carry out quick tests in local preventive medicine centers to reduce pressure for big hospitals. She noticed that names and addresses of patients will not be publicized to avoid discrimination. Most of all, Thu said the district should clean the environment to kill mosquitoes and its larva as well as increase people's awareness of the epidemic.
Appraising the close co-ordination between the municipal health sector and the Ministry of Health in preventing the epidemic, Party Secretary Thang stressed more effective measures should be applied because HCMC is building up a smart and good city. People's Committee must be more determined in the fight and the entire machinery of state must mobilize to clean the environment and kill mosquitoes and its larva. The health sector must undertake well people's health condition and visitors.
Dak Lak has three more babies with microcephaly
Yesterday, head of the Preventive Medicine Center in the highlands province of Dak Lak Dr. Pham Van Lao said that three more babies suffering micrcephaly had been detected in the province.
The preventive medicine center October 8 discovered a four-month old bay girl in Krong Buk District to have small head. Medical workers suspected she has microcephaly. Next on October 18 two more cases of microcephaly were detected in Ea Dah Commune in Krong Nang District.
The Department of Health had taken samples of blood and urine to test for verification.