A chicken pox outbreak in Ho Chi Minh City threatens to reach pandemic proportions, according to reports from some hospitals.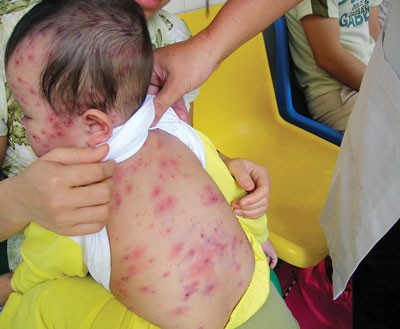 A child with chicken pox examined at Pediatrics Hospital II in HCMC (Photo: SGGP)
The number of children getting the disease has been on the increase in the last two weeks, deputy head of the Infectious Division at the city-based Pediatrics Hospital II, Dr. Tran Thi Thuy, said.
The hospital is admitting six to seven inpatients and dozens of outpatients every day since late January.
Medical workers are worried that most of the varicella – the disease's technical name -- patients suffer from complications.
Most of the patients are from the southeastern and Mekong Delta regions.
Dr. Le Thi Thanh Thuy, Dr. Thuy's colleague, said it is the peak season for chicken pox.
Varicella is a viral infection caused by the herpes varicella-zoster virus. It is highly contagious one to two days prior to the onset of skin lesions and five to six days afterwards.
Experts said parents can prevent their children from getting chicken pox by keeping them clean. The incubation period for the disease is usually around two weeks. Symptoms include fever. 
Since the virus is spread primarily through respiratory droplets and, to a lesser degree, through vesicular fluids, it is necessary to isolate the patient.
More importantly, parents should get their children vaccinated at an early age to prevent the disease.
Elsewhere in the country, Ha Noi and neighboring provinces have reported a measles outbreak.