The Vietnam Food Administration has asked the producer of '29 Hanoi' liquor brand packaged on October 12 to immediately recall and destroy all stocks after four men in the northern province of Quang Ninh died after drinking the liquor.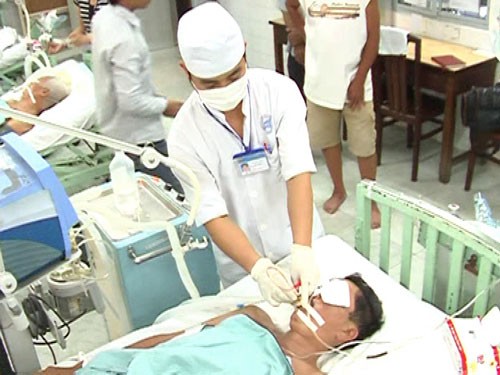 A case of alcohol poisoning (Illustrated photo: Thanh Nien)
Vu Xuan Dien, Director of the Department of Health in Quang Ninh Province, said total volume of liquor drunk by the victims was about four liters. As the victims were all hospitalized too late, doctors were unable to save them.
Following these deaths, the 29 Hanoi Import and Export Joint Stock Company located in Long Bien District in Hanoi and directors of provincial and municipal departments of health were ordered by the food watchdog on December 7 to freeze alcohol production immediately.
Accordingly, the local health authority must announce via public media about the deaths from the spurious liquor, to warn people against drinking it.
In addition, supervision should be conducted to recall and destroy all product stocks. Food authorities will also check the 29 Hanoi Import and Export Company and other liquor producers for food safety and hygiene.
Health authorities in Quang Ninh Province said that sample tests of the liquor that caused the deaths show that methanol contents were 2,000 times higher than acceptable limits.
Consequently, about 6,000 cans of liquor produced on that day were seized from the market.
Workers Nguyen Van Trung, 27; Tran Manh Linh, 26; and Nguyen Van Thanh, 26; from Cam Pha District in Quang Ninh Province drank the liquor on December 2.

By the same afternoon, they suffered headaches and nausea and were vomiting until night. Later they were taken to the General Hospital in the Long Bien District.
Despite being in intensive care, Trung died and Linh fell into a coma and died on December 3.
Meantime, in Mong Duong Ward of Cam Pha District, Nguyen Dinh Khoa, 24; Le Dinh Trung, 30; and a man named Hoang bought a two liter can of '29 Hanoi' liquor from the local market and drank it. Two days later, Hoang died at home.
Bui Van Son, 25; Bui Van Dang, 25; and Bui Van Hoang, 35; from Lac Trung District in the northern province of Hoa Binh on December 2 drank three liters of '29 Hanoi' liquor.
Next morning, they suffered headaches, nausea and bad vision but they self-medicated themselves by buying some medicines from the local pharmacy.
When their condition worsened they were taken to the emergency unit at the local hospital. Hoang died in the hospital, Dang fell into a coma but Son miraculously regained consciousness later.