The entire machinery of state must mobilize and take drastic action to fight avian influenza, Deputy Prime Minister Nguyen Sinh Hung said on Monday.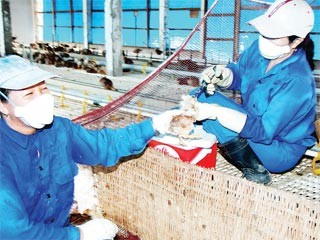 Vets vaccinate breeding chicks before selling to breeders
Speaking at a Ha Noi meeting of the national bird flu taskforce, Mr. Hung called for all agencies to participate following the outbreaks of bird flu in isolated parts of the country before the lunar new year and now in Vinh Long and Can Tho in the south and Hai Duong, Ha Tay and Ha Noi in the north.
Another senior government official, Deputy Minister Bui Ba Bong, bemoaned the complacency of the authorities and residents of bird flu-affected provinces, and said that the people in charge of controlling bird flu had relaxed their surveillance of vaccination, poultry sale and slaughter.
More worrying, he added, was that vaccination and other preventative measures were often done without due care or attention; in some provinces the vaccination rate was down to thirty-five percent.
Agriculture and Rural Development Minister Cao Duc Phat emphasized the danger facing every part of the country from bird flu.
Mr. Phat stressed the importance of raising small farm owners' awareness of the dangers, and said that several testing laboratories would be built to assist the veterinarians and other scientists.
Mr. Hung and Mr. Phat both spoke of the need to raise public awareness of bird flu, and to modernize and scale up poultry farming.