On the occasion of the Day for Vietnamese AO Victims - August 10, Vietnamese President Nguyen Minh Triet sent his letter to Vietnamese Agent Orange (AO) victims.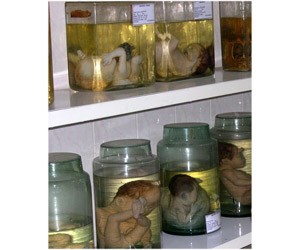 Bodies of AO infant victims are preserved at Hoa Binh Villlage in Tu Du Hospital (Photo: U.P)
In his letter, he affirmed that the Vietnamese Communist Party, State and people always sympathize with and provide AO victims with special care.
The president emphasized that the suffering of Vietnamese AO victims is the shared pain of the Vietnamese people and also of humankind around the world.
The State President expressed his deep sympathy with victims over their losses and pains.
President Triet hailed the AO victims who have overcome their difficulties and had functional rehabilitation treatment to integrate into the community.
Mr.Triet on this occasion praised the support from the international community for Vietnamese AO victims.
Currently, Viet Nam has about 4.8 million AO victims, among whom are hundreds of thousands of disabled children living a hard life.