The eyesight of Vietnamese students is deteriorating, researchers have found.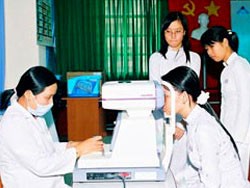 A student takes an eye check (Photo: Thanh Nien)
According to a report presented to a December 18 optometry seminar in Ha Noi, 26 percent of students in Da Nang city, Ha Tinh and Hai Phong provinces have poor eyesight, including short -sightedness, long-sightedness and astigmatism. The biggest problem was short-sightedness, the report said, making up 79.5 percent of the vision problems.
A higher proportion of city students suffer poor eyesight than country students. The report said 27 percent of urban students had poor eyesight compared to 14 percent of rural students.
Research conducted by HCMC Eye Hospital found 9 percent of students had poor eyesight in 1994, compared to 25 percent this year. In September, 40 percent of students tested at the hospital were found to have poor eyesight.