A press statement was issued in Hanoi on the success of a surgery conducted on an eight-year-old girl from Tan Ha District in the central highland province of Lam Dong, who had been suffering from a massive tumor on her left leg since birth.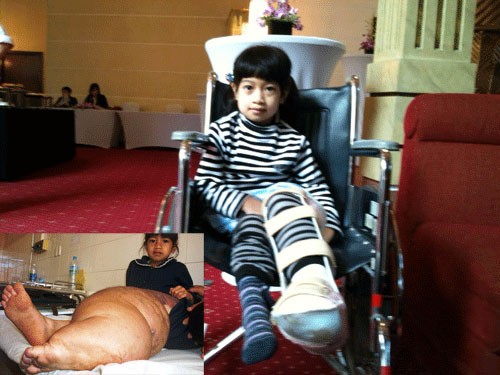 The girl before and after the surgery
For years, eight-year-old Nguyen Thi Loan had been suffering excruciating pains on her left leg from a massive tumor that she had been born with.
About 20 days after Nguyen Thi Tam was born, her family brought her to Ho Chi Minh City to show her at the Pediatrics Hospital No. 1. There she was diagnosed with innate hemangioma, an abnormal buildup of blood vessels, for which doctors said that nothing much could be done.
By the time Loan was three-years-old, the tumor had grown huge and the little toddler even suffered some bleeding from small growths on the leg. Whenever the weather changed, Loan could not sleep and needed painkillers to relieve her of pain and discomfort.
Before the surgery, Loan weighed 25 kilograms and her left leg alone was 15 kilograms. The disease had become more complicated over the years and subsequently the family and the hospital asked for   help from international medical experts.
At last, the Taiwan External Trade Development Council (TAITRA), a foremost non-profit trade promotion organization in Taiwan, agreed to transfer the girl to Taiwan for treatment about six months back.
Till now the girl has undergone five operations in hospitals in Taiwan and doctors have removed 10 kilograms of the tumor from her leg. Now she has recovered and can walk around.
The hospital fees for the operations are around VND1.5 billion (US$72,059), which will be covered TAITRA and benefactors.