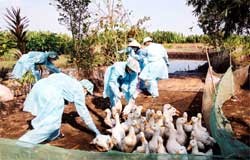 A flock of duck is being gathered for vaccination.
Recent tests for the H5 virus were positive, announced the Veterinary Department of the southern province of Ben Tre on August 9.
239 samples from two flocks of two families in the Ben Tre province were tested by the Veterinary Center in Ho Chi Minh City and four were positive to the avian influenza strain.
Notably, among 54 ducks in the mentioned flocks, thirty were immediately destroyed by the local veterinary agency while the other ducks were reportedly sold out to the market.
Awaking to a high risk of bird flu recurrence in the local, the southern province's Veterinary Department recently decided to take samples from other surrounding duck flocks as well as carried out additional vaccination for the local waterfowl flocks.