A 12-year-old girl from Vinh Loc District in the northern province of Thanh Hoa has died of A/H1N1 virus on April 23, bringing the number of people succumbing to the fatal virus to three, with two earlier cases being from Yen Bai Province.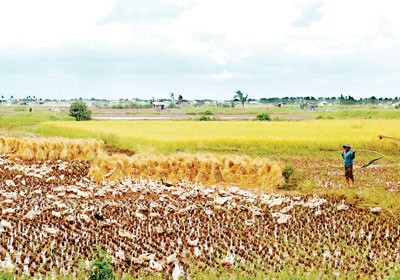 Farmers let water fowl roam from fields to fields which helps increase high risk of spreading avian flu (Photo: SGGP)
On the same day, this news was confirmed by the Ministry of Health at a meeting with the Steering Committee against Avian Flu in Hanoi. The girl died at the National Tropical Disease Hospital in Hanoi.

Dr. Tran Dac Phu, Deputy Director of the Preventive Medicine Department, said at the meeting that several kinds of virus are circulating in the country, including A/H1N1, A/H5N1, A/H3N2 and Flu Virus B. Two people in the Mekong Delta province of Dong Thap and Long An have died of A/H5N1 while two people in the northern province of Yen Bai have died of A/H1N1 tins year.

Dr. Nguyen Hong Ha, deputy director of the National Tropical Disease Hospital, said the girl was hospitalized with serious breathing problems and had to be put on a ventilator. Test results showed her positive for A/H1N1 virus.

Noticeably, Phu said of 1,000 samples taken from the beginning of the year, 119 were positive for the flu virus with 48 percent with A/H1N1, followed by Flu Virus B and A/H3N2.

The Ministry said the country has not yet recorded any case of A/H7N9 on humans or poultry. However, Vietnam is at high risk of the new Avian Flu virus spreading from its northern neighbor, China, where the virus has affected 120 people and killed 21 so far.

The Ministry has requested healthcare units all over the country to take necessary precautionary measures to cope with a possible pandemic.

Tan Son Nhat Airport in Ho Chi Minh City and Noi Bai International Airport in Hanoi are using machines to measure body temperatures of all incoming passengers since April 6. Supervision has been stepped up for early detection.