Three newborn babies died on July 20 soon after they were given vaccination shots against Hepatitis B, at the General Hospital in Huong Hoa District in the central province of Quang Tri.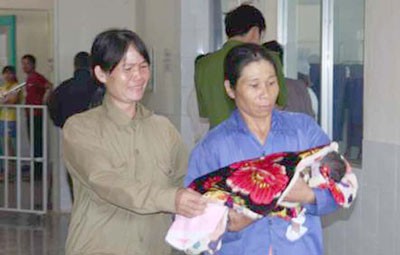 Relatives of dead baby cry a lot (Photo: SGGP)
The three babies were vaccinated under the National Expanded Program on Immunization, informed Tran Van Thanh, director of the provincial Department of Health.
The vaccine was produced in 2012 with expiry date until 2015 and distributed by the Preventive Medicine Center on July 18.
Soon after the babies were vaccinated, their condition deteriorated.

The babies were children of Nguyen Dinh Dao and Nguyen Thi Nga from Dong Chin Village in Huong Hoa District; Nguyen Minh Tien and Tran Thi Ha from Khe Sanh Town of Huong Hoa District; Ho Van Hang and Ho Thi Du from Village 7 in Thuan Commune of Huong Hoa District.

Nguyen Dinh Dao spoke with tears in his eyes that he and his wife had decided to have a second child after 12 years.

Many relatives of the babies gathered at the hospital to gather more information. On the same afternoon, forensic experts of the provincial police force arrived at the hospital to investigate. Later, relatives of the babies took the bodies back home for burial.

After this incident, the provincial Department of Health has informed   medical units to seal the remaining vaccine batches for further investigation.
The health sector has also sent people to visit the babies' families for consolation and financial support.