A group of over 100 tourists was hospitalized with food poisoning in Binh Thuan Province on June 10.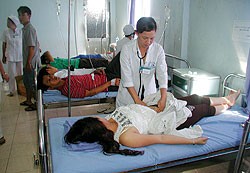 Tourists are treated for food poisoning at An Phuoc General Hospital in the central coastal province of Binh Thuan (Photo: Thanh Nien)
The An Phuoc, Tam Phuc, and Binh Thuan Province general hospitals were inundated in the central coastal province early that morning as the patients checked in with severe stomach aches, diarrhea and vomiting.
The tourists were traveling on a tour organized by Vietmart Company.
On June 9, the tourists ate at a food fair organized by Suoi Cat Company in Suoi Cat Tourist Area. Afterwards, they dined at Dai Duong Restaurant.
At midnight, many of them got serve stomachaches and diarrhea and began vomiting. They then took taxis to the hospital.
Agencies in the province are investigating the causes of the food poisoning.
Nguyen Van Son, general director of Suoi Cat Company, told Thanh Nien newspaper on June 10 that the Food Fair had been inspected by the Department of Food Hygiene and Safety.
The deputy director of the Binh Thuan Province Department of Culture, Sports and Tourism also attended the fair that night, Mr. Son added.
Mr. Son said his company had assigned staff to take care of the tourists at the hospital as soon as it got word of their condition.
Before dining in Suoi Cat, the tourists visited Mui Ne and ate food there also. Mr. Son said it would thus be difficult to determine the exact cause of the food poisoning.