The death of the twin boys in the northern mountain province of Yen Bai was due to pneumonia-related breathing problems rather than a vaccine as feared initially, doctors said May 14 following an autopsy on one of them.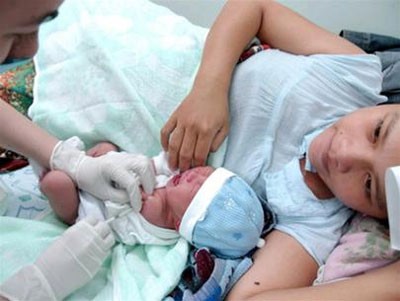 A newborn baby gets vaccinated at Hung Vuong Obstetrics Hospital in HCMC. Doctors in Yen Bai Province have allayed fears that a pair of twin boys died recently because of a vaccine, saying it was pneumonia that claimed their lives. (Photo: TTO)
The director of the province's Department of Health, Dr.Dao Thi Ngoc Lan, made the announcement, allaying fears following the deaths of three-month-old Pham Duc Thanh and Pham Duc Thien in Yen Binh District after getting a routine inoculation.
She said Thien was suffering from malnutrition, weighing only 3.2 kilogram when he died. When he was rushed to hospital, he had fever and the X-ray also showed lung damage.
Thanh died at home and no autopsy was done but his death too has been attributed to pneumonia. After being vaccinated, the twin had been taken outside by their relatives and might have contracted pneumonia, the scientific council said.
The scientific council also carried out an investigation at the district medical clinic where the vaccines were administered. It inspected the storage room where the vaccines are stored, checked syringes and phials for contamination, and examined medical reports before announcing medical workers had done the vaccination in the right manner.
The vaccine too is above board and has been administered to nine other babies in the district who remain healthy, the scientific council said.