An eighteen-month-old infant was found to have stopped breathing in a private nursery school in Ho Chi Minh City after a school attendant covered the baby's mouth with a duct tape to stop her from crying.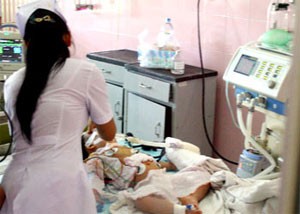 The infant is currently under treatment in Gia Dinh People's Hospital
On November 30, Do Ngoc Bao Tran from Phu Nhuan District was admitted to the Gia Dinh People's Hospital in a life-threatening condition. Her breathing and heartbeat had stopped and her body had turned blue.

Accompanying Tran to hospital was her mother, Nguyen Dan Thuy, who is also an attendant in the Thien Tho Nursery School where the incident took place.

According to the mother, earlier that morning, Tran was brought to the nursery school where she was under the care of her mother's colleagues Le Thi Le Vy and Nguyen Thi Hong Ha, who are in charge of infants 6 to 18 months of age.

About an hour later, Ha found Tran lying face down and motionless and immediately told Xuan Thu, principal of the school, and Tran's mother who was working downstairs. Tran was then brought to the hospital.

According to police, Le Vy has already confessed to having covered Tran's mouth with duct tape when she could not coax the child to stop crying. The duct tape which was 4cm in width and 15cm in length, stayed on Tran's mouth for about two minutes, and caused the child to stop breathing.

Principal Thu also revealed Le Vy does not have a degree related to baby-sitting even though she has been working at the school for two years already.

Phu Nhuan District Police decided to seek an indictment against Vy and carry out further investigation of the case.

Meanwhile, Tran's life is still at risk. She's currently in a coma and recent CT scan revealed that the child is suffering from brain-death as blood could not reach her brain when her heartbeat stopped.

Tran is undergoing CT scans to better diagnose her condition.

Deputy Chairwoman of the HCMC People's Committee Nguyen Thi Thu Ha and relevant officials paid a visit to the infant last night. Ha stressed the committee will establish tighter control over the nursery schools and day-care centers operating in the city.