Parents were worried as there was a shortage of  many kinds of vaccines especially five in one vaccine and six in one vaccine that they have to pay for in medical clinics in Hanoi and Ho Chi Minh City.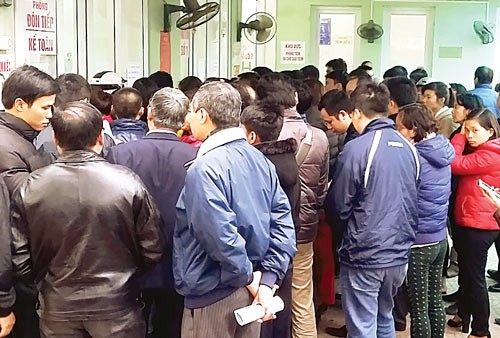 Many parents are queuing to buy vaccine for their children (Photo: SGGP)
Parents yesterday queued in front of the National Institute For Control Of Vaccine And Biologicals in Nghiem Xuan Street in Hanoi to buy France-made five in one Pentaxim combination vaccine to immunize against diphtheria, tetanus, pertussis, polio andHaemophilus influenzae type b.
Waiting for 2 hours in the institute from 5 AM, Ms. Nguyen Thu Huong in Cau Giay District was not sure whether she could buy the vaccine as there were many people came earlier than her.
After hearing the news that the institute has just imported 300 dozes of Pentaxim vaccine, many parents flocked to the institute to buy the vaccine for their children. Not only Pentaxim vacccine but also Belgium-made six in one Infanrix hexa vaccine are in short supply.
Dr. Tran Dac Phu, head of the Department of Preventive Medicine under the Ministry of Health, said that the shortage of vaccine in big cities such as Hanoi and Ho Chi Minh City is due to increase in  demands while vaccine suppliers changed their location; production plans and assembly lines and some batches of vaccine went off; accordingly, the supply is not stable.
Vietnamese Drug Administration said that it has facilitated importers; however, it depend on supply and demand of the market. Moreover, manufacturers just produce vaccine after they calculate all orders.  Therefore, medical clinics should place orders early.
Do Tuan Dat, head of Vaccine and Biological Products Company No. 1 said that this year demands increased three or four times more than previous years, importers signed contracts  early but producers are unable to meet the demands.
Medical workers warned parents not to depend much on the vaccine as the vaccines sometimes are in short. Dr. Tran Nhu Duong, deputy head of the National Institute of Hygiene and Epidemiology (NIHE),stressed that parents should let their children be injected with vaccines that are free of charge in the National Expanded Immunization Program which has enough good vaccines. If parents wait for the vaccine, children can face danger  as they are not injected as per schedule.
Dr. Tran Dac Phu said that many children have pertussis ( or whooping cough) and measles as they are not vaccinated as per schedule due to waiting for have -to -pay vaccines.