Drug prices have yo-yoed in Viet Nam in recent times due to fluctuations in raw material prices and exchange rates, and the volatility in global markets.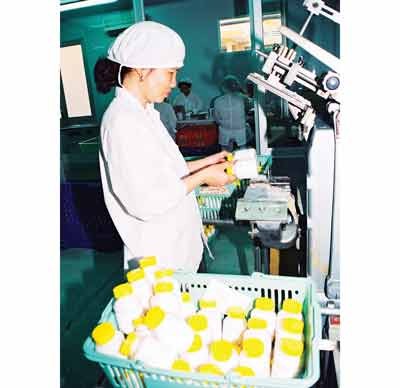 Domestic pharmaceutical enterprises still import materials
But the problem has been exacerbated because the pharmaceutical industry lacks clear direction.
Though domestic manufacture accounts for 50 per cent of the drugs available in the market, 90 per cent of the raw materials required to make them are still imported.
The failure to see and plan the big picture means many plants are set up to manufacture basic drugs while there is little production of specialized or sophisticated drugs.
To streamline the sector, the Ministry of Health and the Ministry of Trade and Industry have drafted a plan to develop manufacture of raw materials and distribution of drugs.
Deputy Minister of Health Cao Minh Quang and Deputy Minister of Trade and Industry Do Huu Hao said the first step is to build a factory to manufacture antibiotics and raw materials for antibiotics that follows Good Manufacturing Practices.
The two ministries have chosen to kick off the plan by making antibiotics because there is much demand for them and they mostly have to be imported.
Speaking at a meeting to discuss ways to boost drug research, another deputy health minister, Hoang Trung Hai, said a major task for the nation is to develop a base for manufacturing drug raw materials.
One of prime goals of this program is to produce 300 ton of antibiotics a year, 10,000 tons of sorbitol, and 150 tons of excipient.
He said priority would be given to build a factory, set up laboratories, and create facilities to train chemists for the pharmaceutical industry.