The Central Hygiene and Epidemiology Institute will carry out the experiment of H5N1 vaccine on human in September, if there is no change, said an official of the institute.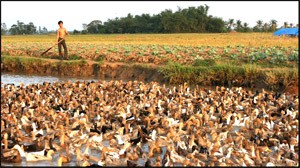 Raising poultry in such condition may spread bird flu
At first, the institute will conduct the experiment on 30 and then expand to 100 volunteers.
Currently, the institute is finalizing the legal procedures for the test.
Meanwhile, Nha Trang National Institute of Biological Products and Vaccine Production announced that the first five batches of vaccine produced from chicken embryo were checked on quality after the vaccine was injected on house-mice, guinea-pigs and chicken.
The result showed that vaccine had effect after a half of month and these animals maintained resistance to H5N1 virus after 40 days of injection.
At present, five batches of vaccine (equivalent to 2,000 dozes) are being transferred to the National Institute of Drug Quality Control of the Ministry of Health (MOH) in Ha Noi for quality check.
According to Dr. Le Van Hiep, president of Nha Trang Vaccine Institute, the experiments of vaccine on animals will end in June 2006 so that the experiment on human is done, after approval is given by the MOH.