Viet Nam can now produce 40 million doses of 9 out of 10 kinds of vaccine a year for the purpose of mass immunization. This meets 50% of the real demand of 80 million doses a year and contributes to the success of the fight against polio.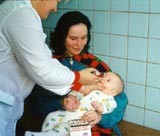 Children are protected against polio with Sabin vaccine.
Besides, Viet Nam has continued to produce hepatitis B vaccine and achieved initial success in developing H5N1 vaccine by transplanting NIBRG type, loss of toxicity, on embryos of chicken.
"The application of bio-technology brought outstanding successes for the Vietnamese pharmaceutics in the past years, especially in vaccine production and diagnosis", Professor and Dr. Nguyen Van Thanh said at the seminar "Bio-technology in biological and pharmaceutical products" organized by the Ho Chi Minh City Bio-Technology Center and Pharmaceutical Department of the University of Medicine on December 6.