Viet Nam will allow hatching of water fowl again from Thursday despite a bird flu outbreak in the northern province of Hai Duong. Sai Gon Giai Phong newspaper spoke with Deputy Minister of Agriculture and Rural Development Bui Ba Bong about his ministry's concerns and plans.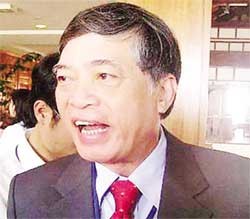 Deputy Minister of Agriculture and Rural Development Bui Ba Bong
Ducks and geese can only be raised on farms which are fully enclosed and far from residential areas, schools and factories, and the farmers must obey all the relevant health regulations, Mr. Bong said.

Free-range duck farmers must register their intentions with the animal health authorities to prevent bird flu.

If they want to move their flocks to other districts, they must show their registration books to local government officials so that the veterinarians can keep a close watch on poultry as well as vaccinate the birds.

Eggs must be tested by vets and sterilized before being hatched, and farms and farming equipment must be clean.

On the issue of covering vaccination costs, Mr. Bong said his ministry had asked the government to give small farms full assistance and charge large businesses 50% of the vaccination costs.

On Wednesday, the Minister of Agriculture and Rural Development ordered provincial authorities to strengthen their surveillance of the transport, sale and slaughter of poultry, conduct sterilization, and prepare for a comprehensive bird-flu vaccination campaign in the coming weeks.