Lower temperatures will facilitate the development of bird flu virus and the dangerous H7N3 and H7N8 viruses may spread in Viet Nam, said Deputy Head of the Animal Health Department Dau Ngoc Hao yesterday.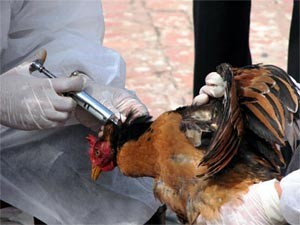 A chicken is vaccinated by animal health officials

A meeting on bird flu prevention was held yesterday in Ha Noi by the National Steering Committee for Avian Influenza Prevention and Control.

According to Hao, the development of avian flu in many countries is occurring in a more dangerous and complex manner.

Over the last two weeks, bird flu has reportedly made reappearances in many Asian countries and territories.

Notably, the dangerous H7N8 was found on November 21 in the south-west of the Republic of Korea where over 19,200 infected ducks were killed.

Another type of bird flu virus, H7N3 which had led to the deaths of 17 million fowls in British Columbia, Canada three years ago, was recently found in a poultry farm in the province of Saskatchewan.

The committee decided to import H7N3 and H7N8 vaccines in preparation for a possible bird flu outbreak.