A measles vaccine production plant, the first of its kind in Viet Nam, was inaugurated on April 14 in Ha Noi by Viet Nam's Health Ministry and the country's Poliomyelitis Vaccine Research and Production Centre (POLIOVAC).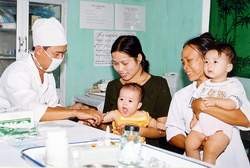 Doctor injects a child to prevent him from getting measles
The project was built under a Viet Nam-Japan investment with such construction items as production factory, breeding farm, designed to meet the GMP (Good Management Practice) standards of World Health Organization. It was built at a cost of nearly VND 368 billion (about $US23 million).
It will begin trial production in April 2006 before starting mass production in 2008. It is expected to produce 7.5 million doses a year.
Up to now with the opening of this facility, Viet Nam has, for the first time, capable of producing all ten types of vaccines for the Expanded Program on Immunization (EPI).
The Japanese representative said that the Japanese government will continue providing technical assistance to strengthen the capacity for measles vaccine production in Viet Nam to 2010.