After neighbouring China confirmed 21 cases of H7N9, including six deaths, Vietnam's Ministry of Health has adopted an action plan to fight against the new strain of virus from entering the country.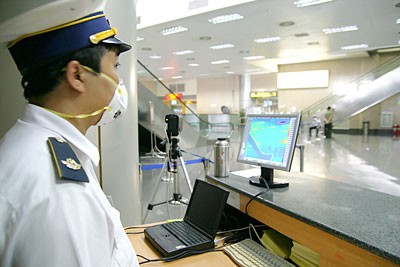 A machine installed in Tan Son Nhat Airport to measure body temperature of passengers (PHoto: SGGP)
Possible measures to curb the spread of the deadly virus begin with protecting people from contracting the deadly virus at the initial stage. However if several people contract H7N9 but no case of  human-to-human transmission is discovered; or human-to-human transmission is found but at a small scale and only solitary cases; or the pandemic is widespread in communities and among medical staff, then urgent measures must be taken to curb the spread of infection and save people's lives.
The ministry said that though the country has not recorded any case up till now, there is high possibility that the deadly virus may enter the country via rampant sale of illegal water-fowl through border crossings and breakout into a huge pandemic if the country practices lax behavior.
The Department of Health has stepped up detection and quarantine measures at Tan Son Nhat International Airport to monitor incoming passengers. The airport now has two machines to measure body temperature of passengers, and these devices can work effectively at a distance of 150m.
The ministry has issued a guideline to take, preserve and transport samples at temperatures of four degrees celsius and taken to labs within 48 hours. If samples are not brought to labs within 48 hours, they should be kept at sub-zero temperatures.
The ministry has also called on the public to wash hands with soap and not eat poultry of unclear origin or of dead birds. If people experience any breathing problems, fever, chest pains, they should go to nearby clinics immediately for examination.