Vietnamese scientists at the Company for Vaccine and Biological Production (Vabiotech), under the Ministry of Health, have succeeded in producing a vaccine against bird flu, after eight years of scientific research.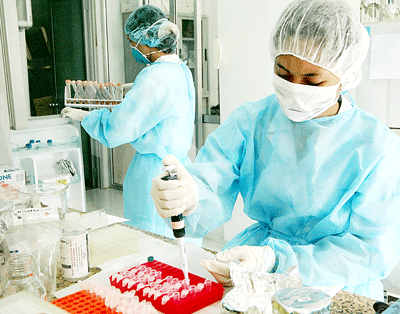 Vabiotech researchers testing bird flu vaccine in the lab (Photo: SGGP)
The vaccine is being considered as one of the 15 important scientific achievements in the medical field in the last 10 years.
Dr. Professor Nguyen Thu Van, director of the vaccine research centre, said her efforts and those of her colleagues' are going to be rewarded when bird flu vaccine Fluvax will be used effectively to cure people.
Bird flu hit Vietnam in 2003, spreading rapidly throughout the Southeast Asian country, recording 52 deaths. The World Health Organisation warned that bird flu virus could mutate during the pandemic to a more lethal form to cause deadly human flu if there is no effective vaccine found.
Accordingly, Dr. Van and her colleagues started on research to make a vaccine to fight bird flu. The research team decided to develop the vaccine from monkey kidney cells, as they are cheaper and safer than similar vaccines using the culture of embryonic chicken eggs currently being developed by other countries.
The scientists started clinical trials on animals in 2008, and two other trials on hundreds of researchers and staff of the Central Hygiene and Epidemiology Institute and military personnel, with the approval of the Ministry of Health and the Ministry of Defence.
Vabiotech plans the last phase of a clinical trial of the bird flu vaccine on 1,200 volunteers. Like the previous ones, the last trial is being conducted in accordance with strict European safety standards, Van said.
If this last trial succeeds, she said the company would apply for a licence from the Ministry of Health to mass produce the vaccine in 2013 at a cost that will be far lower than the imported vaccine.
The company has spent a substantial amount for purchasing a WHO standard production chain that can make around 5 million doses of vaccine annually.