Per year, one million Vietnamese patients suffer postoperative infection due to nosocomial infections or hospital-acquired infection. Overloaded hospitals have worsened bacterial contamination among patients.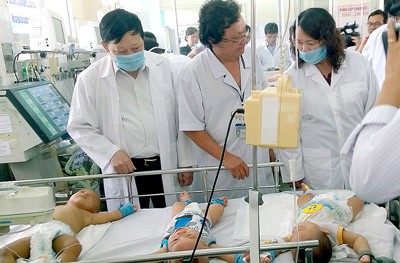 Two or three patients in one bed in crowded hospitals (Photo: SGGP)
Patients also experienced a healthcare-associated infection due to hospital-acquired infection. Patients are crammed on a bed and doctors have to carry two or three surgeries at the same time; consequently patients are infected afterwards, said Prof Luong Ngoc Khue, Chief of department of Medical Checkups and Treatment Management.

He added that hospital-acquired infection further treatment time from 9 to 24 days; accordingly hospital fee will increase from VND2-32.3 million (US$94- 1,518) a patient.

A study conducted by Nhan Dan Gia Dinh Hospital showed that hospital-acquired pneumonia is an infection of the lungs that occurs during a hospital stay. Pneumonia occurs more often in patients who are using a breathing machine (respirator). The rate of pneumonia patients due to using breathing machine in a long time is over 60 percent.
Tests showed that the presence of antiviral resistance in over 90 percent of patients' phlegm.
Similarly, the rate of pneumonia patients due to hospital-acquired infection is highest rate among other diseases in Cho Ray Hospital, according to a study of Dr. Le Thi Anh Thu and her colleagues on hospital bacterial contamination.

Since 1997, the Ministry of Health has introduced regulations for managing hospital bacterial contamination. The country also took part in World Health Organization's global annual campaign "Save Lives: Clean Your Hands".
The campaign aims to urge health workers to practice good hand hygiene when caring for patients, to protect them from contracting infections in health facilities. It is expected to control the contamination in hospitals, said health experts.

Dr. Nguyen Thi Thanh Ha, Vice Chairman of Ho Chi Minh City infection control association, said that hospital infection is one of the top challenges burden in Vietnam for causing serious consequences such as increased mortality, complications, increase the cost of treatment, yet, infection control at health facilities is not properly focused.