Minister of Health Nguyen Quoc Trieu held an emergency meeting May 6 with authorities from southern provinces that have border crossings and the Ho Chi Minh City airport to discuss measures against influenza A (H1N1).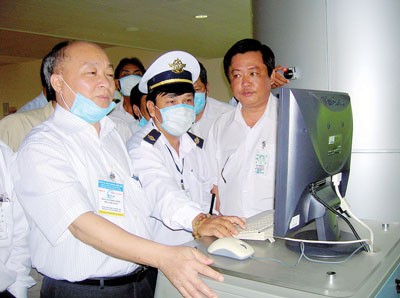 Health Minister Nguyen Quoc Trieu (L) takes a look at a thermal scanner for passengers at Tan Son Nhat Airport on May 5 (Photo: SGGP)
The director of the Tan Son Nhat International Airport quarantine center, Nguyen Van Sau, told the minister that 70,000 international passengers arrived in Vietnam from April 26 to May 5, including 7,736 people from affected nations, but no A/H1N1 cases have been discovered.
Mr.Trieu told airport and other personnel to provide disinfectants and hand soaps at public places, especially toilets. He ordered people to keep tabs on the disease because the epidemic could continue to go around for a while longer.
 
On the same day, authorities and medical officials from six southern provinces -- Tay Ninh, Long An, An Giang, Kien Giang, Ba Ria – Vung Tau and Dong Thap - attended a meeting held by the HCMC People's Committee with the minister.
The deputy director of Tay Ninh's Department of Health, Nguyen Van Cuong, complained that his officers are unable to monitor the over 1,000 international travelers arriving through the Moc Bai and Xa Mat border gates daily.
Deputy chairman of the An Giang People's Committee, Huynh The Nang, said prevention measures have been implemented in his province but certain remote wards near the border gates of Tinh Bien, An Phu, and Tan Chau have substandard medical facilities and a shortage of masks and flu drugs.
Authorities from other provinces also complained about a shortage of vaccines, respirators, medical masks, and other treatment facilities.
Mr.Trieu said provinces should use public funds to buy equipment since it is important to quarantine infected passengers entering Vietnam.
 
He warned that health officials at frontiers who fail to spot sick people would be penalized.
The city's vice chairman, Nguyen Thanh Tai, called for setting up a hot line between the city and provinces to share information about international passengers.

Dr Nguyen Huy Nga, head of the Department of Preventive Medicine and Environment, said at a meeting with the National Steering Committee on Influenza in Humans on May 5 that the number of passengers coming into Vietnam with high fever has increased.

The World Health Organization updated that as of May 6, 23 countries have reported 1893 confirmed cases of infection.
On the same day, a person arriving in Ho Chi Minh City from the Czech Republic was found to have fever and rushed to the National Institute of Infectious and Tropical Diseases. Doctors are carrying out tests on the passenger.

The director of Viet – France Hospital, Nguyen Van Ban, said his hospital admitted three suspected people, a Frenchman from Hong Kong and a couple from the US. The Frenchman has since tested negative for A/H1N1. The couple subsequently quarantined at the hospital until the final test results are available.

Six Vietnamese persons have been isolated in Hong Kong because they stayed at a hotel where a Mexican man with the flu stayed. However, one of them returned home on May 6 after testing negative for the disease, according to the Ministry of Foreign Affairs.

Mexico has reported 942 confirmed human cases of infection, including 29 deaths. The US has reported 642 human cases and two deaths.