In response to the World Health Organization's global campaign to prevent the spread of Zika virus infection Vietnam has conducted medical quarantine and tightened supervision in border crossings and airports.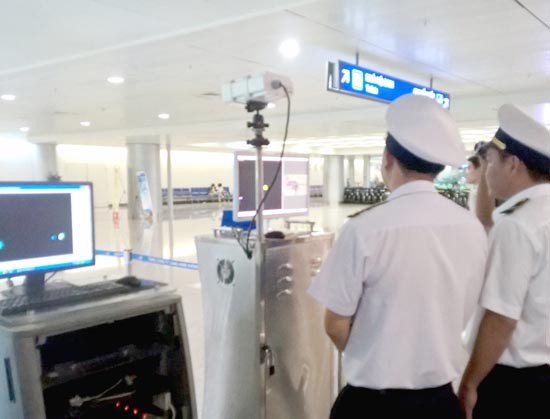 Medical workers keep an eye on passengers' body temperature through Tan Son Nhat Airport (Photo: SGGP)
WHO campaign is named Strategic Response Framework and Joint Operations Plan to guide the international response toward the virus and the neonatal malformations and neurological conditions associated with it.

After one month implementation of medical quarantine measures in Tan Son Nhat Airport, head of the Ho Chi Minh City International Health Quarantine Center Nguyen Van Sau said that the center has carried out all necessary measures including measuring passengers' body temperature.
Passengers who come from Zika-hit areas will be asked to fill health declaration, said Mr. Sau.
President of Pasteur Institute in HCMC Dr. Phan Trong Lan said that a big city with most international holidaymakers like HCMC is unavoidable to face high risk of recording a case of Zika virus infection yet close monitoring, early detection and quarantine will limit spread of the virus cases.
Meantime, Deputy Health Minister Nguyen Thanh Long said at a meeting with the US's Health Emergency Operations Center (EOC)  in Vietnam upon prevention of Zika virus that the most important thing is that authorities should increase information of the way the virus transmit and call people to kill mosquitoes and its larvae to curb the transmission. Before, Health Minister Nguyen Thi Kim Tien also ordered to kill the insect in the residential blocks and all forces must be ready to prevent the monitoring task.
Head of the Ministry's Department of Preventive Medicine Tran Dac Phu said that the Pasteur Institute was asked to take blood  samples and testing to discover whether the dangerous virus is circulating in the community.
Medical experts said that symptoms of Zika virus is similar to dengue fever including fever, pain in muscle and joints. The Southeast Asian country is one of nations with dengue fever ; accordingly doctors in maternity hospitals are ready to increase information of the virus to pregnant women as well as encourage them to have regular medical check-up once a month from the second month of the pregnancy in order to early detect abnormality in fetus because Zika virus causes microcephaly.
As per medical experts, there has been no medicine to treat the disease caused by Zika; therefore the Ministry warned pregnant women not to go to Zika-hit areas.