Professor Tran Dac Phu, chief of the Department of Preventive Medicine under the Ministry of Health said that the Ministry of Health will set up four mobile teams to quickly respond to the disease if any case of Ebola is reported nationwide and provinces and cities will have their own mobile teams to handle the disease.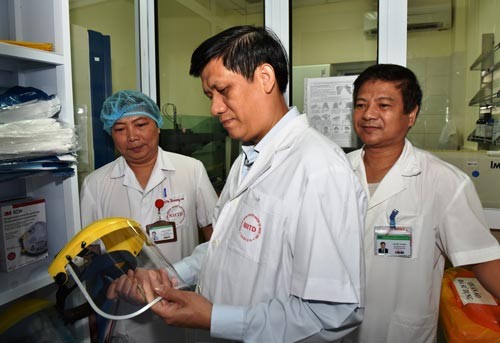 Vice Health Minister Nguyen Thanh Long check medical equipment in a hospital for Ebola prevention (Photo : SGGP)
Dr. Phu provided the news at an online meeting between the Steering Board of Ebola Prevention and health authorities in the country. Because of complex developments of Ebola disease, the Steering Board of Ebola Prevention yesterday had an online meeting with health authorities in Hanoi and Ho Chi Minh City to give more information about risks of Ebola.

According to Deputy Health Minister Professor Nguyen Thanh Long, in the world, besides West African countries, the US and Spain have reported of cases of Ebola and all of them are medical workers.
Though Vietnam has not reported any case, it is likely to have in the future; thus medical clinics should step up its precaution. Hospitals nationwide need to update the prevention methods against Ebola viruses in the world and guideline issued by the Ministry of Health.

In addition, medical staffs should have careful preparation by taking part in drills held by hospitals such as Central Tropical Disease in Hanoi, the Central Hospital in Thua Thien-Hue province and the Tropical Disease in Ho Chi Minh City. Hypothetical situations including diagnosing the first case of Ebola, isolating, treating should be adopted.

Hospitals are ready to have isolation rooms to receive Ebola patients, prepare enough drugs and equipments as well as workforce.
Mr. Phu said that since September, the number of dead people due to Ebola virus continued increasing and the World Health Organization predicted the number of them will be over 10,000 if no control measure is applied thoroughly.

The Southeast Asian country keeps tightening on prevention mission of the disease at border gates by asking people to fulfill the health declaration and measures body temperature of all passengers. So far, 277 passengers from Ebola-hit countries have entered Vietnam; some of them were isolated but they are free from the virus.