The Prime Minister has just issued a decision asking to expand the health insurance coverage to 90 percent in all districts across the country.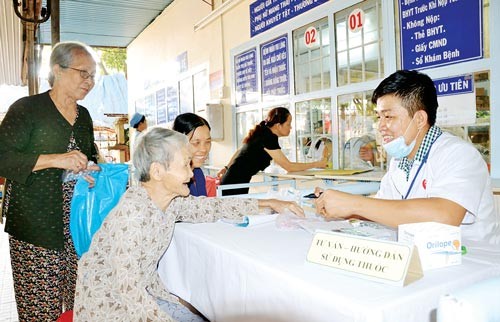 (Photo:SGGP)
Chairpersons of people's committees in cities and provinces are asked to implement the decision for the period 2016 – 2020. As per the PM's decision, all 63 cities and provinces must have health insurance coverage of 90 percent; the rate in some cities and provinces is 100 percent, the rates for the northern province of Lao Cai, Thai Nguyen, Dien Bien and Ha Giang are 98.8 percent, 98.5 percent, 98.5 percent and 98.2 percent respectively by 2020. 
Health insurance coverage is one of targets of annual socioeconomic growth and five-year socioeconomic plan, as per the PM's decision. Staffs of people's committees must regularly update the information of laborers' salary, social insurance and health insurance to soon detect enterprises which have not paid for its employees' health insurance and social insurance. 
People's committees asked the people's councils to take state budget and call for social contribution in a bid to support near-poor and special people to buy health insurance. For instance, the government should support so that most of families whose economic condition close to poverty line can buy health insurance or support families working in fishery, agriculture, forestry and students to buy health insurance. 
The PM asked the Vietnam Insurance Company to expand health insurance coverage as well as liaise with related agencies and department to work out policies and plans relating to expanding health insurance. In addition, it needs to rearrange network to sell insurance to facilitate people in buying it.
Moreover, to expand more people participating in health insurance, the Ministry of Health was asked to instruct its departments of health and medical clinics to continuously adopt measures to improve treatment and examination quality and improve medical workers' behaviors to patients as well as address administrative formalities.
The Ministry should work with the Ministry of Finance to propose an increase in support near-poor families, families working in agriculture, forestry, fishery and make salt, students and other special people.
The Ministry of Education and Training, the Ministry of Labor, Invalids and Social Affairs were asked to adopt plan to make sure that by 2017, most of students have health insurance. The Ministry of Defense and the Ministry of Public Security were also asked to adopt a plan to develop more soldiers and police officers to have health insurance so that most of soldiers and police officers have health insurance by 2018.