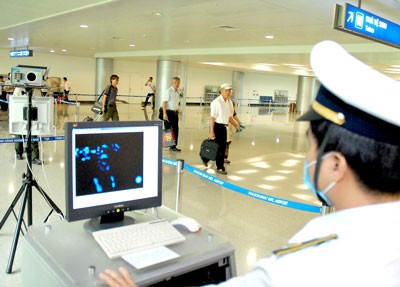 (Photo: SGGP)
The Ministry of Health has warned about the possible spread of the Middle East Respiratory Syndrome caused by the Corona virus, or MERS-CoV, in the country by visitors.
To preclude this, thermometers have been installed at Ho Chi Minh City's Tan Son Nhat Airport to measure the body temperature of all visitors.
The ministry has ordered health departments in cities and provinces to keep a close eye at border check points and airports on people arriving from affected countries.
Those with a temperature of more than 38 degrees Celsius will be quarantined for further tests.
Nguyen Huu Hung, deputy director of the HCMC Department of Health, ordered port authorities to increase vigilance to detect infected visitors coming by sea.
Dr Nguyen Tri Dung, the director of the department, said there are plans to educate the public about hygiene practices.