Viet Nam's Institute for Research and Application of Medicines for Fatal Diseases has called for some HIV patients for experimental treatment with Vegakiss, which is produced from herbal ingredients. The medicine is expected to help improve patients' immune systems and limit the activeness of the deadly virus in the body.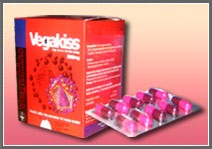 Vegakiss medication is produced from herbalingredient
This is medicine for HIV treatment which Science and Technology Ministry and Health Ministry have approved of a trial treatment to establish its efficiency.
Last year, the institute said its product, Vegakiss, was tested with initial success on HIV patients who volunteered for experimental treatment.
This year's patients selected for the experiment are from 18 to 45 years old; male or female; rehabilitated drug-using patients, or HIV patients due to other causes.
Those satisfy the above requirements should contact the institute at the following address:
The Institute for Research and Application of Medicines for Fatal Diseases in 8 Phao Dai Lang, Dong Da, Ha Noi
or visit the website:
http://www.radinervn.com.vn