Public concern has been raised after a medical worker in a rural commune in the central province of Ha Tinh mistakenly distributed beans to local children claiming them as imported vitamin A tablets.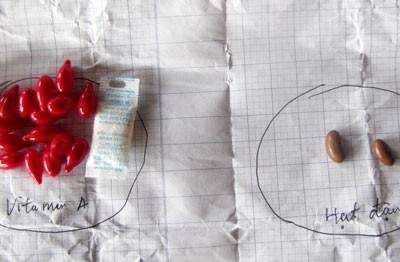 Vitamin A (left) and beans (Photo:SGGP)
An inspection team from the Department of Preventive Medicine in Ha Tinh Province arrived in Cam Trung Commune in Cam Xuyen District on December 3 to investigate the incident.
Earlier on December 1, dozens of parents had taken their children aged six months to five years to take Vitamin A supplements at a clubhouse in the commune.
Vo Viet Hung, 39, the local nurse, distributed a bean-like tablet to each of the children. Hung said that as the vitamin tablet was hard, parents should grind them before giving to their children.
Three or four children chewed the bean-like tablet and swallowed them with water. Luckily, none of them suffered complications.
After finding out that Hung was distributing beans instead of vitamins, the local health center asked for a report on the case, said Nguyen Van Duc, Head of Cam Trung Commune Health Center.
Hung later admitted his mistake. After receiving 158 vitamin A tablets from the local health center on November 29, he brought them home and placed them near a bag containing seed beans. Next morning, he mistakenly took the bag of beans and distributed them to parents.
Vo Viet Hung has done a training course for medical workers in 1994 and was certified to work as a nurse in the local health center in October 2013.