The chill weather in the north is sending people to hospitals in droves in Ha Noi, especially children and the elderly.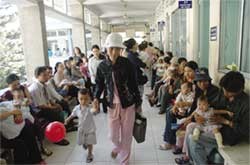 The cold weather has sent children to hospitals (Photo:SGGP)
At the National Pediatrics Hospital, daily admission numbers are 30 percent higher than normal at over 1,500.
The hospital's deputy director Dr. Le Thanh Hai said most of the children are brought with the flu, respiratory problems, and diarrhea caused mostly by rotavirus.
 
The overloaded respiratory and digestive departments are putting two and three kids to a bed.
The situation is the same at other hospitals like Bach Mai, Saint Paul, and Thanh Nhan.
The influx of elderly people at the Vietnam National Institute of Gerontology is seeing medical staff work overtime.
The temperature in some parts has fallen to as low as 3-4 degree celcius, according to the National Hydrometeorology Forecast Center.
It has forecast more cold fronts and lower temperatures.
The Ministry of Agriculture and Rural Development has instructed local authorities to draw up plans for the winter-spring rice crop and keep tabs on the weather to guide farmers. It called for a halt to sowing if the weather got too cold.