1941
Independent Vietnam newspaper published "World War II and our people's response" written by Nguyen Ai Quoc (an alias of Ho Chi Minh).

After analyzing the war, the author raised the question: "What should our people do to avoid getting involved in the war?" and then provided an answer: "Our people should carry out two measures: First, the people should apply the scorched-earth policy… They will give help to a foreign army only when they are ordered to do so by the Viet Minh (the League of the Independence for Vietnam).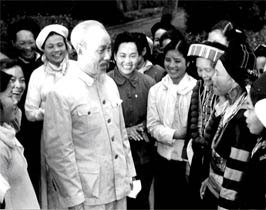 President Ho Chi Minh meets minority ethnic women representatives at the third Congress of Vietnam Women's Union in March 1961 (File photo)
"Second, peasants should join the National Salvation Farmers' Union, young people should enter the National Salvation Youth Union, and women should take part in the National Salvation Farmers' Union's activities, and the wealthy and writers should join the Vietnam National Salvation Union…

"Dear compatriots! The chance for national liberation has come to us. Let's get together soon!"

1945
President Ho Chi Minh chaired a Government Council meeting discussing agricultural development, the admission of some Vietnamese Nationalist Party members to the coalition government, and the recruitment of judges.

The same day he signed a decree to establish some cities that would be put under the central government's control.

1946 

One day after the resistance war against French colonialists was launched, the President issued an open letter to the people, saying: "The Vietnamese people now have two ways to go: first, we could surrender to the enemy and accept becoming slaves; second, we could fight to the last to claim freedom and independence.
"We must say 'No' to the first option. The Vietnamese people are determined not to be slaves again. The Vietnamese people would rather die than lose independence and freedom … All Vietnamese people must stand up to safeguard the Fatherland."

1951

In an appeal published in Cuu Quoc (National Salvation) magazine, the President said: "Our soldiers should try their best to kill the enemy and achieve victories. Our people should be willing to pay agricultural tax to create a public fund to support soldiers. That way we will drive our enemy into a corner."

December 1951
In a message to Catholic people on Christmas, the President said: "Once again, we celebrate the birthday of Christ in conditions of the war waged by French colonialists. Jesus Christ sacrificed himself for the sake of humankind's freedom and fraternity. On the Christmas holiday, I hope you pray for soldiers, religious or non-religious, who have bravely fought the enemy and fallen for the Fatherland.
"You should also pray for clergymen and Sisters, from North to South, who have been killed by the enemy in their fight for justice. I hope you get together soon to serve the nation's resistance war and carry out one of the aspirations of the Christ: "Peace on earth to those on whom his favor rests."

1954

In "American imperialists' shameful failure in sabotaging the Geneva Conference" in Nhan Dan (The People) newspaper, the President said: "The success of the Geneva Conference is a great victory for the Indochina people, the French people, and the world."  

1960

In "Practicing thrift" in Nhan Dan, the President said: "It is when we practice thrift that we are contributing to the building of socialism and to the struggle for the country's unification. Our people should keep it in mind at all times."
By Duong Trung Quoc* and his assistants
*The author is a historian and member of the National Assembly