1901

Hoang Thi Loan, mother of Nguyen Sinh Cung – the birth name of President Ho Chi Minh -- passed away in Hue. After her death, Cung, aged 11, was sent to his grandmother's in Nghe An Province, where he started learning Chinese.
1939

Nguyen Sinh Cung became an experienced revolutionary and called himself Nguyen Ai Quoc. During his stay in China, he disguised himself as an army major and went to Hunan Province, where he and General Yeh Chien-ying gave guerrilla warfare training to soldiers fighting the Japanese fascists.
1947

President Ho Chi Minh presided over a conference of land-owners in Ninh Binh Province held to discuss intensifying the fight against the French colonialists. He announced the slogan: "Our country is above all, our nation is above all, victory for the resistance is above all."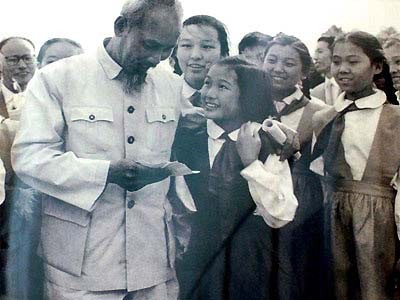 President Ho Chi Minh with young volunteers in China in 1957 who wanted him to send their letters to their Vietnamese counterparts
1948

The President encouraged everyone to enter the second year of the resistance war against French colonialists through the poem:

The year of Pig has elapsed
The year of Rat is coming
Greetings to everyone
Wishing success for the resistance
With our people's unity
With our country's determination
Unification will surely be achieved
Independence will surely be gained
In an article titled "What should young people do?" in Nhan Dan (People) newspaper, he wrote:

Young people should be self-motivated, self-strengthening, and self-reliant.
Young people should have a strong will, be eager to work, and not be lured by social positions.
They should be determined and fulfill tasks they undertake at any cost.
They should be eager for progress and eager to learn, always improving their knowledge and political and professional skills.
They should be determined to join the resistance war to achieve our country's unification, independence, democracy, and liberty.
When they do all this, they will deserve to be owners of our country.
1962

In a message to the 2nd Conference of Asian and African Writers, Ho Chi Minh said: "The pen for justice in the hand of struggling writers has great strength."
1965

During a visit to Vietnam by Soviet Prime Minister Alexei Kosygin, the President attended a ceremony for making a joint declaration with the Soviet Union at a time when the Americans were escalating the war in Vietnam. The declaration confirmed the Soviet Union's support to Vietnam in its war against the American invaders. 
1967

During Tet (lunar New Year), while on a visit to Tao Duong Cooperative in Thanh Oai District, Ha Tay Province, the President said, "We join the Party to act as servants of our people... We become servants of our people, not mandarins. To have good Party members, it is necessary to build Party cells that are good; otherwise, we will deceive ourselves."
 
By Duong Trung Quoc* and co-writers
*The author is a historian and member of the National Assembly