1930

Nguyen Ai Quoc, as Ho Chi Minh called himself then, left Hong Kong after fulfilling his historic mission to merge communist organizations in Vietnam and aboard with the Communist Party of Vietnam.
1950

President Ho Chi Minh signed a decree granting poor farmers lands that had been abandoned in the course of the war against the French.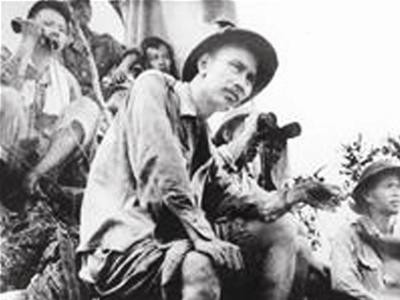 President Ho Chi Minh with soldiers during a battle against the French invaders in Dong Khe town, Cao Bang Province, in 1950
1958

President Ho Chi Minh paid a historic visit to India, where he met Prime Minister Jawaharlal Nehru, who hailed him as "a great, extraordinary revolutionary of our times. He usually deals with everything with a smile on his lips."   
During his stay in India, Ho Chi Minh visited the Maha Bodhi Society, an organization seeking to revive and propagate Buddhism in India.
Welcoming him, the head of the association said in a speech: "A true hermit, the President has devoted his life to his fatherland and people. He has given up the ostentation normally associated with a head of state. Like Emperor Ashoka, a Buddhist who renounced everything, the President reveals to the world an ideology that can be pursued only by a man filled with confidence…"
In Calcutta, where he wrapped up his visit, Ho Chi Minh was eulogized by its mayor, who said, "Just like the Father of our Nation, Mahatma Gandhi, His Excellency President Ho Chi Minh is a symbol of asceticism, nobility, and simplicity. We wholeheartedly pray for this historic visit to create friendly bonds that tie us up in a great brotherhood".        
1960

In an article published in Nhan Dan (People) newspaper, Ho Chi Minh emphasized Lenin's point of view on labor. He wrote: "After all, labor productivity is the most important element of the new social order. We should adopt this in our daily activities."
1964

To welcome Tet (lunar New Year), the President composed a poem:

North and South, like branches of the same tree
With brotherhood we join a struggle in unanimity
When the day of unification comes
We North and South will together be happy
I send you all season's greetings
Also my calls to everybody
1969

Ho Chi Minh welcomed the visiting president of the Cuban Committee of Solidarity with Vietnam, Menba Hernandez, who said she was very impressed by Ho Chi Minh.
"He is a combination of a revolutionary tirelessly fighting for his people, a modest and simple person, a sensitive and profound poet who can express the purest sentiments of humans …," she said.
 
By Duong Trung Quoc* and co-writers 
*The author is a historian and member of the National Assembly