1927
 
Nguyen Ai Quoc (an alias of Ho Chi Minh), in Guangzhou, wrote the last article, in a series of seven, on events in China published in Annam, a French language newspaper produced by Phan Van Truong in Sai Gon.
1946
 
After the first Tet since independence, President Ho Chi Minh wrote an article, 'Words of Thanks to the People,' in Cuu Quoc (National Liberation).
 
The article said, 'On the occasion of Tet, people from South to North, individuals, organizations, young and old people, ethnic minority people, and overseas Vietnamese in Laos, Thailand and China have sent over 2,000 messages and letters to wish me a happy New Year. Some people have even sent me oranges, jam, square glutinous rice cakes, salted vegetables and handkerchiefs.
 
'I am so busy that I am sorry that I can't express my thanks to each one, I wish all of you accept this common thanks with all of my heart."
 
1947
 
After two months of fighting to the last breath to contain enemies in the capital of Hanoi, Uncle Ho secretly gave instructions to withdraw his troops from Hanoi to the northernmost Vietnam base in an aim to keep the troops intact for a protracted resistance.
 
1951
 
Uncle Ho participated in the 2nd Party Congress and resided over a military conference to discuss receiving aid from the USSR and China to bring the Resistance to victory.
 
1952
 
He sent a message to Chinese President Mao Tse Tung on the 2nd anniversary of establishing diplomatic relations between the two countries.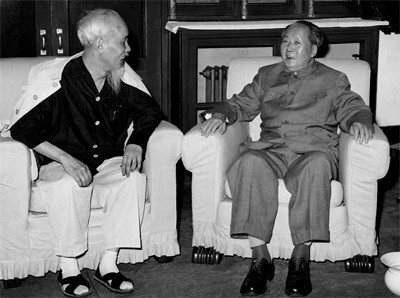 President Ho (L) talks with President Mao

1958
President Ho successfully concluded his visit to India and began another to Myanmar. 
Receiving President Ho at the airport, the Myanmar President said, "Myanmar people respect and admire you for not only striving your whole life for independence and freedom of people in colonies, but also making great contributions in the cause of revolution and liberation in Southeast Asia." 
"Your respectful virtues, upright spirit, and humble attitudes will win Myanmar people's hearts," the Myanmar President added. 
1965

Uncle Ho wrote to troops and people in Quang Binh and Nghe An provinces, and Vinh Linh District in Quang Tri Province for their bravery and achievements in combat. 
The letter said, 'Once again, we proved that if US troops continue to provoke North Vietnam, they will be heavily defeated.' 
1967
In a letter replying to Pope John Paul VI, President Ho Chi Minh accused the US of conducting the war with the most barbarous weapons to destroy Vietnam, including churches.  
He said only when the US ends the war, and lets Vietnamese people solve internal affairs by themselves, will there be a true peace.  
He hoped the Pope would use his influence to force the US to respect basic rights of Vietnam. 
By Duong Trung Quoc* and co-writers
*The author is a historian and member of the National Assembly