1923
Nguyen Ai Quoc, an alias of Ho Chi Minh, wrote an article, published in L'Humanite, in which he turned King Khai Dinh's trip to France into a joke for the French people.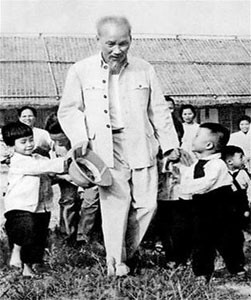 President Ho Chi Minh plays with children in Nghe An province
1925
From Guangzhou, China, Nguyen Ai Quoc sent a letter to his French comrades, informing them of developments of revolutionary activities, including the merger of Vietnamese revolutionary forces.
He told them that his activities in China were 'very interesting.'
Attached to the letter was the action plan that would be referred to the Communist International, which included the establishment of a communist unit in Guangzhou, liaison offices in southern China and Thailand, the sending of Vietnamese students to France to study and some other important tasks.
1931
Amidst revolutionary movements in Vietnam, Nguyen Ai Quoc wrote two articles. The first, 'Red Nghe Tinh' (Nghe Tinh was at that time a province in Vietnam).
He confirmed that 'Nghe Tinh really deserves the Red title.'
In the second article, 'White terror in Indochina,' he denounced French colonialists and praised the strong revolutionary will of soldiers before colonial courts, in such provinces as Thai Binh, Nam Dinh and Hanoi.
1946
President Ho Chi Minh issued a circular calling on the public to stop industrial action that had been incited by hostile forces.
In the circular, he said, 'Given the current serious situation, we have to muster up all our strength to fight against invaders, and given that a general strike is a weapon that should be used to fight against our enemies it should not be used to drive a wedge between us. I, president of the provisional revolutionary government, order all civil servants and the public to continue going to work unless otherwise required by the government.'
1951    
President Ho Chi Minh presided over the first meeting of the Central Executive Committee (the 2nd tenure) of the Communist Party of Vietnam. The meeting focused on a plan to merge Viet Minh (the League for the Independence of Vietnam) with Lien Viet (the Vietnamese National Popular Front).
1959
Addressing a conference of officials in charge of teenager's activities, he said, "In the course of educating children, it is a must to preserve their inherent characteristics, like innocence, activeness, etc., not to make them become 'little old fellows.' Children are in the habit of aping grown-ups, so parents and teachers must be an example, from words to actions, for children to follow.
1960
In his letter to Ho Chi Minh, British lawyer Loseby, who helped the president be released from prison in Hong Kong, wrote, 'You said I had 'saved your life', which can be right, and in such a case, I have carried out one of the best acts in my life and that act will forever be a judicious act.'
By Duong Trung Quoc* and co-writers
*The author is a historian and member of the National Assembly