1921
 
French police detectives reported that Nguyen Ai Quoc, an early alias of Ho Chi Minh, was sick and receiving treatment in a Paris hospital. They found a letter written by him dated February 26 saying: "I am still in hospital and writing this letter from the bed." 
He advised people to read Le Libertaire saying "Though it is an anarchistic newspaper, all its articles are excellent."
 
He analyzed an article published in "Le Courrier d' Haiphong" (Hai Phong news) and said: "Though the article speaks very badly about us, we have to admit it is right. If everyone does good things for the Fatherland, other people will respect [them]."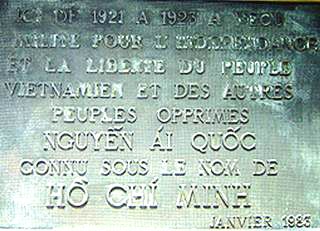 This panel in front of apartment building No.9 in Compoint alley, District 17, Paris, says: "Here, from 1921 to 1923, is the place where Nguyen Ai Quoc, aka Ho Chi Minh, lived and fought for the independence of Viet Nam and other nations."
1947
He sent a secret message to a government envoy in Thanh Hoa Province to call for a rapid consolidation of the government's power in six highlands districts, and remind the province's leader to publish the letter "To highlands people" and encourage traditional mandarins and people to strengthen the rear since the war had spread. 
The letter said: "In this resistance for national liberation, ethnic minority people have showed their love for the country …. I have received lots of letters from Tho, Muong, Nung, Meo and Man people. All of them said they are determined to support the Government and fight colonialists to the end to keep the land and country." 
"I, on behalf of the Government, thank the [ethnic minority] people and promise that when the resistance is successful, the Fatherland and the Government will always memorize your services" 
1949
He wrote to the Nursing School of Inter-region No.1 saying: "Nursing is not only an occupation, but also a duty. A nurse has to educate [people about] hygiene besides curing patients. Nurses have to play an important role in maintaining and improving people's health. Therefore, nurses are soldiers who fight sickness to protect the health of the race. Nursing soldiers have to be willing to suffer misery, work hard and sacrifice, and be humane." 
1952
Analyzing the Indochina war in an article in Cuu Quoc (National Liberation) newspaper, he said: "It can be said that though it is not called a colony, France has actually become a colony of the US." 
1959
At a ceremony to see off a government delegation to Indonesia, he said: "I will surely bring a valuable gift when returning home -- the friendship between the peoples of the two countries." 
He advised the people and the Government to focus on developing the economy and fighting the drought. 
"Agriculture and industry are like two legs of a person. Plans can be completed only when agriculture and industry are both fine. People have to be healthy, if you want to be healthy now you have to protect yourself from the flu." 
When transiting through the Burmese capital Rangoon, the country's president welcomed the delegation warmly.  
By Duong Trung Quoc* and co-writers
*The author is a historian and member of the National Assembly