1923
Nguyen Ai Quoc attended a meeting of a French Communist Party cell at N. 52 Balagny street District 17, Paris.
1930
In Hong Kong Nguyen Ai Quoc wrote a letter to the Communist International to inform that the Vietnam Communist Party had been formed. He said: "Please send us more works by Karl Marx and Lenin and books on communism".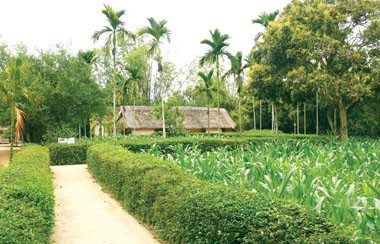 The house where Uncle Ho spent his childhood in Hoang Tru Village, Nam Dan District, Central Province of Nghe An
"At present time I do not know my position. Do I belong to the French Communist Party or Vietnam Communist Party? I did not join the central committee of the Vietnam Communist Party because I have not yet returned to Indochina and the French colonialists sentenced me to death in absentia."
In the letter, he also asked the Communist International to provide contact addresses for sending documents by sea and required Moscow Eastern University to admit only students nominated by the Vietnam Communist Party.
To the French Communist Party, he suggested it to issue calls for contributing ideas and for French soldiers in Indochina.
On the same day, he wrote a series of letters to a representative office of the German Communist Party, the Anti-imperialist Association in Berlin, and the Red International of Labor Unions to ask for books and newspapers and advice in dealing with French secret agents.
1946
President Ho Chi Minh issued an appeal to people to be vigilant against a plot by the French colonialists to wage a "spirit (psychological) war". He suggested ways to cope with it: "We must carry on a protracted and comprehensive resistance war. Politically, we must unite and work in an orderly manner. Economically, we must increase production. Diplomatically, we must increase the number of friends and reduce that of foes. The resistance must be conducted in spirit first: do not be put off in case of failure or complacent in case of success. If we lose a battle we must find ways to win others. If we win a battle we cannot allow ourselves to become negligent. We must fully obey government commands. We can achieve victory in the war and full independence only in this way.

1959: President Ho Chi Minh left Burma for the Indonesian capital Jakarta where President Sukarno, his government, and the people warmly received him and his delegation.
On the same day, the Vietnamese government announced a presidential decree allowing the National Bank of Vietnam to issue new VND10 banknotes and VND1 cent coins and exchange the old currency bills with the public with the new ones.
1961
Delivering a speech at the second congress of the Vietnam Labor Union, President Ho Chi Minh emphasized: "Today all manual and white-collar workers must recognize they are the country's owners … Having the rights of owners, they must complete their tasks. Their tasks are to work hard and saving to rebuild the country.

By Duong Trung Quoc* and co-writers
*The author is a historian and member of the National Assembly