1927
 
Nguyen Ai Quoc (one of Ho Chi Minh's aliases) together with Le Duy Diem, Le Hong Son, and Ho Tung Mau published the Linh Cach Menh (Revolutionary Soldiers) newspaper in Guangzhou to enlighten Vietnamese soldiers based in French concessions in China.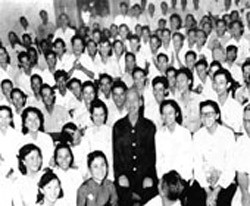 President Ho Chi Minh with delegates at the 3rd Congress of the Vietnam Journalists Association in 1962
1948
The Government sent the first diplomatic delegation to Thailand, Myanmar, China, and Czechoslovakia seeking their support for Vietnam's resistance war. 
1958
On February 4 President Ho Chi Minh led a government delegation on an official visit to India and Myanmar. It was his first official trip to non-socialist Asian nations.  
Before leaving Ha Noi, he said the trip was aimed to strengthen friendship among the three countries and foster solidarity between Asian and African nations so that there would be more peacekeeping forces. 
At 23:00 they landed in Calcutta, India. 
1968
After coming to know about the glorious feat of 11 girls from Huong River in the Tet Mau Than General Offensive, he wrote a letter in their praise. 
1969
The US had to enter into negotiations in Paris.  
On the occasion of lunar New Year, he wrote to the Vietnamese diplomatic delegation conducting the negotiations to greet them. 
By Duong Trung Quoc* and co-writers
*The author is a historian and member of the National Assembly