1951:
This day marked the beginning of the Year of the Cat. The Cuu Quoc (Nation Salvation) newspaper published a New Year letter from President Ho Chi Minh to exhaust soldiers and people following their victory in the Border Campaign: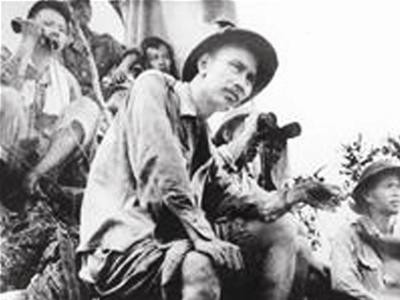 Presiden Ho Chi Minh follows Dong Khe front in the Border Campaign in 1950
Xuân này kháng chiến đã năm xuân
This spring is the fifth one of the resistance
Nhiều xuân kháng chiến càng gần thành công
Victory Day is very close
Toàn dân hăng hái một lòng
The whole nation is excited
Thi đua chuẩn bị Tổng phản công kịp thời
To take part in the timely offensive
This was the first time that all member of the government celebrated Tet since 1947 when Vietnam faced enemy attacks. During the other years many members were based in the south.
In his dairy, then Minister of Finance Le Van Hien wrote: "After listening to congratulations from the members of the government, President Ho Chi Minh thanked them and offered each an orange together with the Vietnamese expression 'Khổ tận cam lai' (when difficulties are over, happiness will come. The word 'cam' in Vietnamese is a homonym with two meanings -- orange and happiness).
1958:
President Ho Chi Minh began a historic visit to India. In the capital New Delhi, he attended a welcome tea party. Replying to his hosts' praises, he said: "I am not a hero. It is the Vietnamese and Indian peoples who united in the fight for the independence of their countries who are the heroes."
At a reception later that the evening by President Rajendra Prasad, Ho chi Minh refused to take a seat of honor laid out for him, explaining he wanted to be on equal footing with everybody.
In his reply to his hosts who occupied the presidency of the International Control Commission for the implementation of the Geneva Accords, Ho Chi Minh said: "Since olden times Vietnam has been one and the Vietnamese people have been one and no one can divide it. We are determined to achieve national reunification through peaceful means on the basis of independence and democracy."
1961:
Speaking at a conference of national inspectors, Ho Chi Minh said: "Inspection is an honorable and important task. It follows, observes, regulates application of the Party and government's policies." He also criticized wrongdoings by inspectors.
1969:
At 10:15 am Voice of Vietnam recorded the President's reading of his New Year greeting to welcome the Year of the Cock, his last. The letter ended with on a note of optimism:
Bắc Nam sum họp xuân nào vui hơn
No spring is happier than spring when the North and South get together.
By Duong Trung Quoc* and co-writers

*The author is a historian and member of the National Assembly