1920
 
French detectives reported Nguyen Ai Quoc, an early alias of Ho Chi Minh, attended a meeting to mark May Day along with the Social Party Group and reported on a forum that called for stopping sending people to colonies.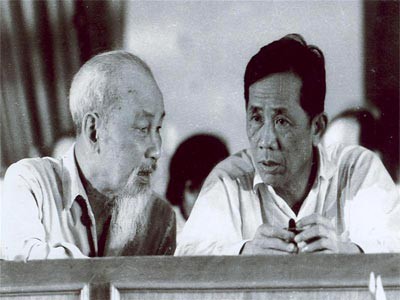 President Ho Chi Minh (L) and Party General Secretary Le Duan at a meeting to mark May Day at Ba Dinh Hall in Hanoi in 1969
1924
Nguyen Ai Quoc attended a ceremony to commemorate May Day at Red Square following an invitation from the Moscow Party Committee and the secretariat of Communist International.  
1925

Together with Chinese revolutionaries, he organized the first Guangdong Province farmers' congress as a prelude to establishing the Farmers' Association.  
1943
Viet Nam Doc Lap (Independent Vietnam) based in Cao Bang published his article titled "Commemoration of Tran Hung Dao." 
He said: "The Tran Hung Dao story bequeaths us a lesson: to fight invaders, our country needs to achieve solidarity among all people and use guerilla tactics cleverly." 
1946
President Ho Chi Minh issued an appeal: "Today is the first day that people and workers in our country are free to celebrate May Day. For us, it is a day to show the world that it is not only May Day but also a day for our people to show solidarity to maintain freedom and democracy, and build the country and a new life." 
1948
He issued an "Appeal to emulate patriotism." 
It said: "The country's economy is backward, but its [people's] patriotism and indomitable will are no less than anyone else's. Now, if we want to be self-sufficient and keep pace with others, we have to act rapidly. Therefore, intellectuals, farmers, workers, traders, soldiers, males, females, the old, the young, and all our people, no matter what position [you] hold and no matter what [you] do, [you] have to be patriotic, which means increasing production."
1951
In an appeal on the occasion of May Day, he said: "In competing, soldiers should compete to fight, workers to increase production, farmers to produce food, intellectuals to create and invent, officials to be diligent, thrifty and honest, and all people to join the resistance." 
On the same day, Nhan Dan (People) published an article titled "the Vietnamese Labor Party with brainworkers" he wrote under the pseudonym C.B. 
It said: "White-collar workers need to be encouraged and supported to develop talent. Intellectuals need to improve their thinking and change their style of working." 
1954
Nhan Dan (People) published his article titled "Our press' shortcomings." 
He said: "In brief, to perform well their duties of agitprop, organization, and guidance, newspapers need to be closer to the public, go deeper into facts, and improve further." 
1966
After watching a performance by the Quang Binh Province ensemble at the President's Palace, he said: "Our people are truly heroic. The fight is so fierce and arduous, [you] still sing optimistically. Such a nation will never yield to any violent power."

By Duong Trung Quoc* and co-writers
*The author is a historian and member of the National Assembly