1945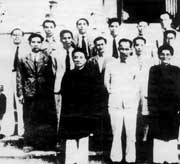 The file photo shows the President (2nd, R) and Nguyen Van To (3rd, R) , former Chairman of the National Assembly of the Democratic Republic of Vietnam
President Ho Chi Minh continued his journey from northern province of Cao Bang to the delta for finding out a chance to call the general uprising.
Stopping at Minh Khai commune in the northern province of Bac Can, he visited an adult education center, telling the biography of Nguyen Thi Minh Khai to residents, to help them understand more about the revolutionary fighter the commune was named after.
1948
In his condolence letter to Vu Trong Khanh, Department of Justice's director of the Interregional Ten, about the death of Khanh's mother, the President encouraged: "Everyone desires a good life, yet his physical life has ended while his reputation will live on from generation to generation. We should have strong spirits and belief, wealth can't seduce us and power can't menace us. Whatever difficulties we have, we can overcome."
To commemorate Nguyen Van To, former Chairman of the National Assembly of the Democratic Republic of Vietnam, who was shot dead by French soldiers, President Ho Chi Minh prepared an oration and begged the elder Bui Bang Doan for ideas with the modest words, "I collect all my strength to outline the oration for you to have a look. I beg your help to edit it because I dare not hide my "illiterateness" from you."
1949
The President sent a letter to praise and encourage soldiers who had achieved victories in the northern province of Lang Son where they destroyed French military posts such as Ky Cung, Deo Khach, Ba Son, and demolished Ban Trai Bridge, attacked supply convoys in the That Khe battle:
"In preparation to a counter-attack, you have made a good start. You should continue to achieve greater victories."
1952
The President participated in the first political reeducating course of the Party Central Committee.
Replying to the question as why the Party should be improved, he said; "As a leading party, it should be strong and a model for people to follow. Party members should be consistent in actions and demonstrate a high solidarity to finish duties. You are all high-ranking officials and hold important posts, therefore, the success of revolutionary affairs are mostly dependent upon your ethical ideas, ways of working and behavior."
1968
The President continued editing and completing his testament. In the part about revamping the Party he wrote, "It needs to reorganize the Party first. The reorganization must encourage every Communist Party's member, Communist Youth Union's member and party cell must try their best to finish assigned duties."
1969
After rewriting his testament, President Ho Chi Minh told General Vo Nguyen about the content of his speech at congress of high-ranking army representatives.
He mentioned the General Offensive and Uprising of Mau Than Spring 1968, saying, "The US troops were surely defeated and we will certainly gain victory.
"In the fight for freedom and independence, Vietnamese people are willing to sacrifice themselves for the country and overcome difficulties. It needs to have a poweful army with high quality soldiers, as General Tran Hung Dao [of the Tran Dynasty] said. Soldiers must study and demonstrate their revolutionary ethical standards."
By Duong Trung Quoc* and co-writers
*The author is a historian and member of the National Assembly