1947

With a desire for peace, President Ho Chi Minh met Paul Mus, a member of the French Social Party, who agreed to act as a representative of the French High Commissioner to deliver a cease-fire proposal to Vietnam.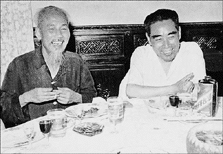 President Ho Chi Minh (L) welcomes Chinese Prime Minister Zhou Enlai in Hanoi in May 12, 1960
But the President rejected the French suggestion out of hand since it included four clauses: Vietnamese troops have to surrender their weapons to the French; the French troops will have the right to travel freely in Vietnam; the Vietnamese government has to release detained French soldiers; and Vietnam has to hand over foreigners who joined the Vietnamese revolution to the French.
He said: "With such conditions, the French High Commissioner wants us to surrender. Only cowards can accept these conditions. And I think there is no room for fainted-hearted people in the French Union."
In reply to a question related to the issue by Reuters, President Ho Chi Minh said: "If the French government has a clear policy for Vietnam, then the negotiations can be resumed easily…. Vietnam cannot become a servant of France and Vietnam's issues cannot be France's internal issues."
1960

President Ho Chi Minh held talks with visiting Chinese delegation led by Prime Minister Zhou Enlai.
1963

The President attended a meeting in Hanoi to welcome the visiting Chinese State delegation led by State President Liu Shaoqi.
1965

In a congratulatory message to the fourth Afro-Asian People's Solidarity Conference in Ghana, President Ho Chi Minh wrote: "This Congress will greatly contribute to promoting the solidarity between the Asian and African peoples who joined in the fight against imperialism and old and new colonialism."
1967

In a letter the President praised soldiers and people of Vinh Linh District, Quang Tri Province, who gunned down the 100th US fighter plane and encouraged them saying: "Remain vigilant always. Fight and work better to attain greater achievements, to deserve to be a heroic frontline of socialist North Vietnam."
1968

President Ho Chi Minh continued revising his testament and the following was added to it: "First are works related to treatment to people. For those who have sacrificed for the fatherland, including cadres, soldiers, guerillas and volunteers, the government must provide stable accommodation for them and provide them vocational training so that they can lead an independent and self-reliant life.
President Ho Chi Minh welcomed Joris Ivens, a well-known Dutch cinema director, who arrived in Vietnam to make a documentary "The Sky and the Ground" describing Vietnam's struggle for freedom. The director had been one of the President's acquaintances when he was living in France.
By Duong Trung Quoc* and co-writers
*The author is a historian and member of the National Assembly