1901
Ho Chi Minh's father, Nguyen Sinh Sac, passed the imperial examinations earning a doctoral degree, second class.
Born in 1863, Nguyen Sinh Sac, or Nguyen Sinh Huy, passed the level just above "cultivated talent" as cu nhan, "recommended man" in 1894.
13 people achieved a doctoral degree, including Phan Chau Trinh, 'patriotic scholar,' in 1901.
1906
Ho Chi Minh and his brother, Nguyen Tat Dat, traveled to Hue with their father, who had taken a position in the Ministry of Rites.
1946
President Ho Chi Minh attended a Government Council meeting to discuss important matters, including establishing a committee that included the President, Huynh Thuc Khang, Nguyen Tuong Tam, Phan Anh, [General] Vo Nguyen Giap and Vu Hong Khanh. The committee would discuss negotiations in France for Ho Chi Minh's official visit.
On that day, the President issued many important decrees, including a decree to set up a committee to protect the dyke systems in the North, as well as policies to prevent floods.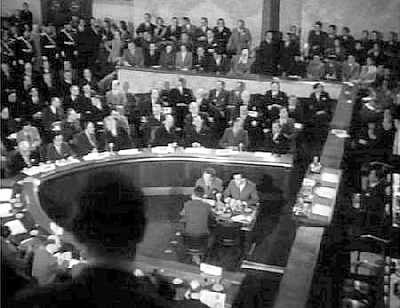 A meeting for the Geneva Treaty in 1954
1952
The President wrote a document," How a revolutionary soldier looks at life and self-improves". He wrote, "The Revolutionary Party is a party that does its best to liberate its people and working class. Hence, each party member does not only strive for a revolutionary career but how revolutionists look at life.
1954
At a Politburo meeting on negotiations for the Geneva Treaty, President Ho Chi Minh directed, "We are carrying out a resistance war and negotiating for the country's freedom and independence. At present, the more our soldiers fight valiantly and exactly, the more we will achieve political advantage at the meeting on the treaty.
"We bid for advantage at talks on the treaty and the opposition has admitted this. However, we have to have an overview of the matter. We have to take advantage of the meeting to gain political advantage."
1968
The President took part in a meeting of the Politburo on the foreign affairs. Speaking about political movements in Eastern European, the President said, "Such circumstances, like those in Czechoslovakia ['The Prague Spring' led to liberalization of the economy and invasion by the USSR], may happen in other countries.
"Decadent life, discontent and low awareness of revolutionary careers might cause problems. It's a lesson that we should not disregard ethical education."
1969
In spite of his weak health, the President sent a letter to a class researching the duties of middle and high ranking officials in Hanoi. He advised, "Above all, you must continue to enhance determination to achieve victory in the battle against U.S. troops. Determination must turn out brave acts and sacrifice for the country."
By Duong Trung Quoc* and co-writers
*The author is a historian and member of the National Assembly