1923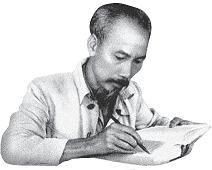 Ho Chi Minh
According to a report by French secret agents, Nguyen Ai Quoc - Nguyen the Patriot, an early alias of Ho Chi Minh - participated in a meeting of the communist Cell Five in Paris.
1946
President Ho Chi Minh sent a thank-you letter to the National Assembly, Government, religious organizations, agencies, people and international friends who wished him a happy birthday. He wrote, "On this occasion, I promise to do my best for the country's self-governance, freedom and democracy from now on. And I will build up friendly relations between Vietnam and nations in the world."
1958
The President came to the 3rd festival of model workers nationwide and talked about the huge changes in agricultural sector.
He stressed the importance of irrigation works, technological improvements and teamwork.
President Ho Chi Minh composed a poem to emphasize the significance of irrigation.
1962
The President sent a thank-you letter, published in Nhan Dan newspaper, to those who wished him a happy birthday. He wrote, "I am happy from these letters, from individuals and agencies, in which they told me of their great achievements, and promised to do more to exceed the set standard of this year's plan and for good preparations of the next plan."
1969
The President received Salvador Allende, general secretary of the Socialist Party and chairman of the Chilean Upper House.
The meeting, taking place just before the President passed away, impressed the Chilean visitor who later became President of Chile, but died in a coup led by General Pinochet.
After his visit, Allende wrote, "When I was in Vietnam, I saw, heard and studied some lessons about revolutionary people and soldiers. Yet, it would not be enough if we had not met president Ho Chi Minh, who is a father of revolution.
"His model life and plain style were engraved in our memory. He has a deep trust in his people. Simplicity and greatness are present in him. We have never heard before about stories of children which can educate us.
 
"President Ho Chi Minh's thoughts and words contain pain and fortitude of a nation, yet gentleness is only seen in the president."
By Duong Trung Quoc* and co-writers
*The author is a historian and member of the National Assembly