1922
In an article, "Some thoughts on colonial issues," in the French newspaper L'Humanité, Nguyen Ai Quoc – Nguyen the Patriot, an alias of Ho Chi Minh, gave his opinions to the Communist Party of France about colonial issues.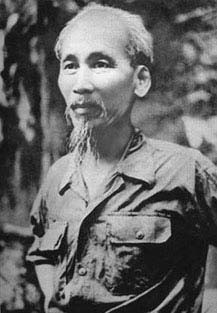 President Ho Chi Minh, who said in 1948: "A patriot does not fear anything at all."
As one of the founders of this Party, Nguyen Ai Quoc maintained that it should adopt a sound plan, a practical and efficient policy instead of being satisfied with declarations that simply put an emphasize on sentiment.
"In face of those difficulties, what should our Party do? It must improve propaganda activities to resolve the problem," the article concluded.
1947
After his talk with Paul Mus, an envoy from the French government, President Ho Chi Minh launched the "Appeal to people and soldiers across the country."
He denounced militarists for their "cruel, inhumane and rude" attitude and called on everybody to resolutely combat the colonial militarists and defeat them, gaining unification and independence for our fatherland.
He also delivered a letter to the French people, saying that "colonial militarists have forced us to continue fighting and we will fight to the last. We take your precept as ours: 'Better death than a slave.' We are struggling for justice. We will exist, we will win."
In a letter to culturists and intellectuals in South Vietnam, the President advised, "Your pens are also sharp weapons in supporting justice and eliminating injustice, which is your duty. It is the same as that of brave combatants in our resistance war for unification and independence for the fatherland. Our people remain friendly with the French people, but our people decisively do not accept being slaves to reactionary colonialists. You culturists and intellectuals are a class of great learning, so you, more than anybody else, should be determined not to accept becoming slaves."
1948
The Cuu Quoc (National Salvation) newspaper published the President's reply in an interview by French newspaper Frères d' Armes:
Q: What do you dislike the most?
A: The evil
Q: What do you love best?
A: The good
Q: What do you long for the most?
A: Independence for our country, as well as for all countries in the world.
Q: What do you fear the most?
A: Nothing to fear! A patriot does not fear anything at all and it is absolutely necessary for him or her to fear nothing.
1954
In an article, "Propaganda," published in Nhan Dan (The People) newspaper, the President was critical of the idea that plays down the enemy's propaganda activities. He emphasized, "The duty of every cadre and every patriot is to seek every opportunity and every means to crush the deceitful and wicked propaganda of our enemy. We must defeat them in terms of propaganda, as well as our soldiers defeating them in terms of military affairs."
1962
Attending a meeting of the Politburo on planning for the Red River area, the President advised, "All works must be considered carefully."          
By Duong Trung Quoc* and co-writers
*The author is a historian and member of the National Assembly