1946
In a meeting with the government council, President Ho Chi Minh assigned Minister of Interior Huynh Thuc Khang, the most senior in the council, to act as acting president while he visited France.
1947
In a letter to soldiers, militias, and guerillas around the country, the President said they are a force belonging to the entire nation, an invincible force, and an "iron parapet" protecting the country. Though the enemy is cruel, whenever they encounter that parapet they disintegrate, he said. Soldiers, militias, and guerillas in the South, the capital, coastal areas, as well as other places have forcefully proved that reality, he said.

"From now on, our forces will be getting more and more durable and our experience will become more and more plentiful. And the stronger we become, the more we will show our enemy as well as the world that our soldiers, militias, and guerillas are patriots who have an iron will and are heroic fighters…"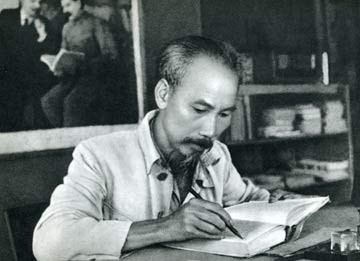 File photo of President Ho Chi Minh, who said in 1947: " The entire Vietnamese people will decisively struggle for unification and independence..."
In an interview to Reuters following five months of resistance, President Ho Chi Minh was critical of the opinion that the negotiations being conducted with him was aimed at creating "room for the Soviet Union in Vietnam."
He said: "The Soviet Union did not come into being before 1917, while the French established it rule in Vietnam 80 years ago. Ho Chi Minh can follow Marxism or Confucianism, but the Vietnamese government consists of people who come from every party and even those not belonging to any party.
"We will fight until we achieve peace for our country. The entire Vietnamese people will decisively struggle for unification and independence...
"The message we want to deliver to the world is that we hope all democratic people in the world will unite to protect democracy in small countries as well as bigger ones."
1959
Addressing the workshop held by the National Assembly to discuss the Marriage and Family Bill, President Ho Chi Minh said: "The bill can be informally called the one on getting married to build family happiness, but it should first focus on women's liberation. So it is the duty of the Government to make it perfect…
"As the bill is closely related to women, they should actively contribute to publicizing the bill among the public so that the spirit of the law can be understood by people of every walk of life..."
1965
In a letter to people in the North to praise their gunning down of the 300th US airplane in the Vietnam War, the President advised them to remain on high alert for an escalation of the war by the US air force.
1969
In a meeting with the deputy chairman of the Central Committee for Teenager and Chidren to discuss children's education and health, the President said: "It is necessary to have coordination between schools, families, and society in bringing up and educating children. Everybody, every official agency and organization, should be responsible for taking care of children."
 
By Duong Trung Quoc* and co-writers
*The author is a historian and member of the National Assembly